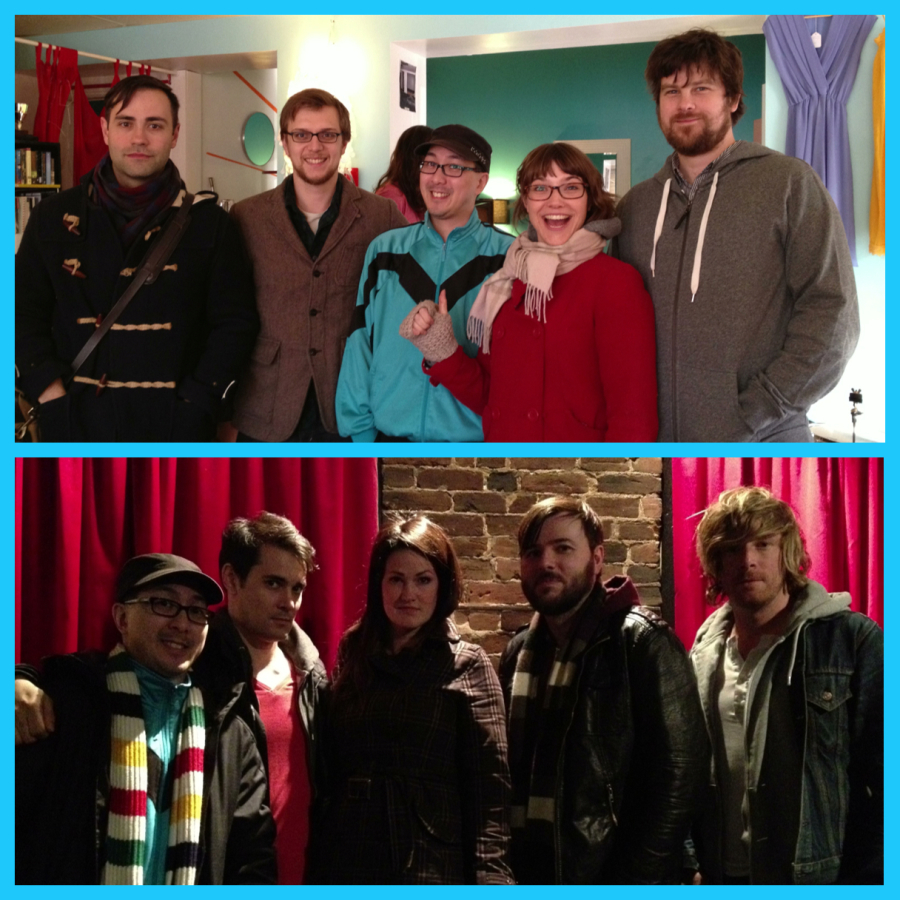 After several weeks of Candice writing on the blog, it's nice to be back and writing. I decided to give her a break for this week.
On the April 10th edition of WildWorks on CKCU-FM, myself and Candice had the opportunity to interview with Toronto-based bands, Language Arts and FIRExFIRE. Both bands were in Ottawa last Friday as they were playing at venues. Language Arts was at Raw Sugar Cafe, opening up for Gianna Lauren. FIRExFIRE was playing at Cafe Dekcuf. It was definitely a busy Friday.
Overall, both were great and it was a privilege to see Kristen (of Language Arts) again and finally meet the members of FIRExFIRE. Thanks again to the two bands.
To listen to the interviews, the audio are posted below.
The interview with Language Arts has two versions. The one posted to Soundcloud is the entire version, while the one aired on CKCU-FM (and on their On-Demand) had a segment edited out.
On the Wild 10 Countdown, New Summer (Doldrums Remix) by Young Galaxy takes the top spot this week. The summary and playlist for the podcast can be seen here.
Also on the radio show, we briefly discussed about Hong Kong film awards which is happening this weekend and went through the best film contenders for this year.
Songs played for the occasion were CoCo Lee's A Love Before Time (Mandarin version) and Infernal Affairs by Andy Lau & Tony Leung.
To my own amazement, I didn't expect Candice to have Infernal Affairs as her favourite Hong Kong film. There was a slight mention to its counterpart, the remake or Westernized version, The Departed. I didn't have too kind words to mention about that film.
My favorite Hong Kong films are Crouching Tiger, Hidden Dragon and Infernal Affairs. Due to time constraints on the show, I didn't get a chance to mention my other favourite movie, more like a top five. The remaining three films are "An Autumn's Tale," "Peking Opera Blues" and "Chungking Express."
Ending off the show was a song by Jacky Cheung from the movie, The Last Tycoon. It's nominated for the Best Film Song category for this year's Hong Kong Film Awards.
You can check this week's playlist for the live radio show over at this link.
Audio/Interviews
The April 10th Radio Show – Press play to listen.
[audio http://archive.org/download/WildworksOnCkcu-fmForApril102013/WildworksApril102013.ogg]
The Language Arts Interview (2013 Edition)
[soundcloud url="http://api.soundcloud.com/tracks/87307650″ params="" width=" 100%" height="166″ iframe="true" /]
The FIRExFIRE Interview
[soundcloud url="http://api.soundcloud.com/tracks/87308097″ params="" width=" 100%" height="166″ iframe="true" /]
Videos
I cannot stop listening to Infernal Affairs.
[youtube=http://www.youtube.com/watch?v=GIQNiFZf_yw&w=853&w=480]