Hong Kong Milk Tea & The Radio Show – S08E43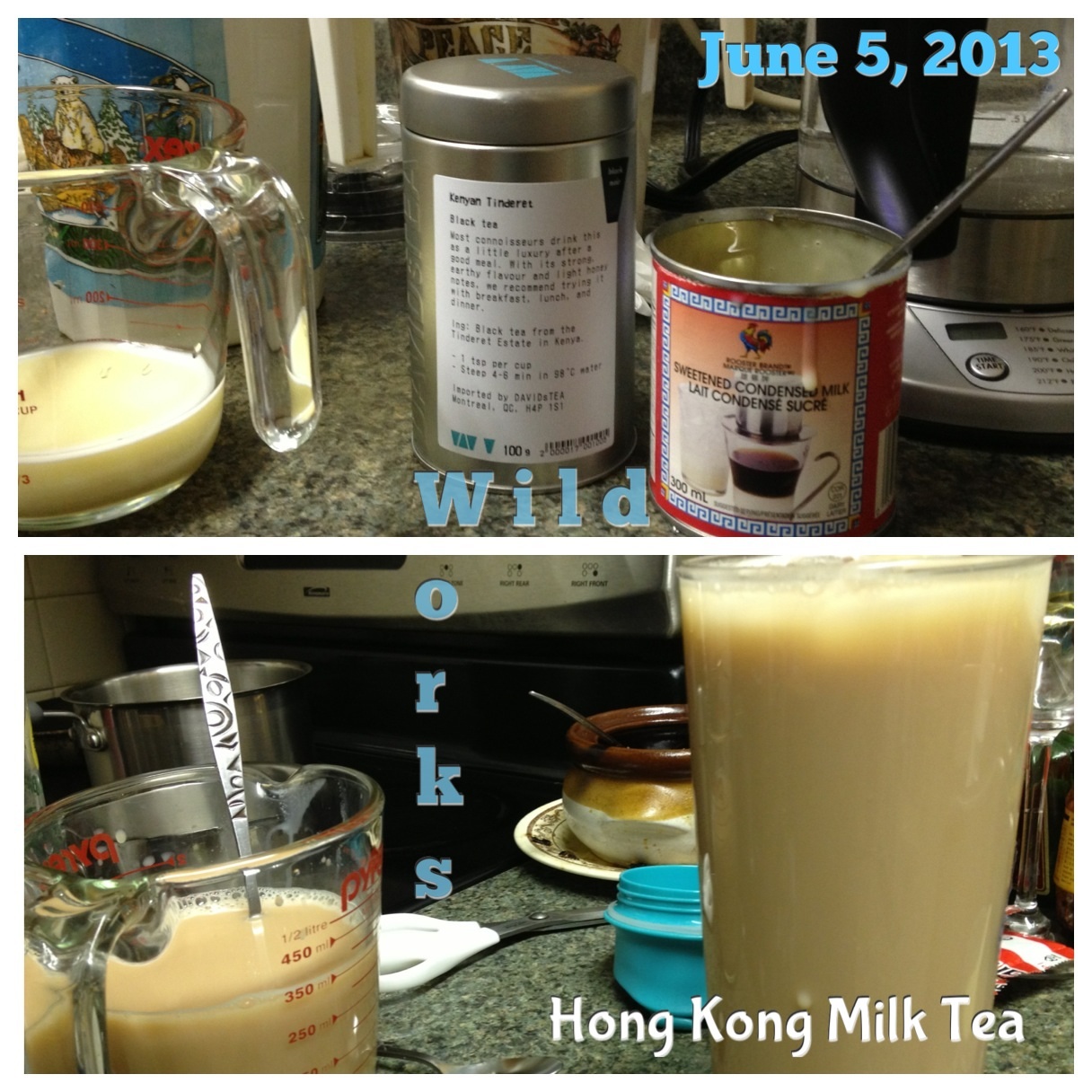 I was a bit stumped in writing something as I haven't had any music interviews for the past month. Instead, I decided to blog about making Hong Kong Milk Tea as DAVIDsTEA came out with a recipe to making Hong Kong Milk Tea. It caught my attention as I like things about Hong Kong.
I decided to buy Kenyan Tinderet and didn't expect to see the tea leaves looking like coffee. Worse part was not getting sweetened condensed milk until later in the night as I walked to the supermarket and bought one. It costed around three dollars as I'm not too familiar with it.
Onto making the tea, I boiled one litre of hot water (95 degrees Celsius) and added four spoonfuls of Kenyan Tinderet in a teapot. I didn't use a pitcher as it got used for storing water. Later, I put 1/2 cup of sweetened condensed milk. I didn't know it was gooey and sticky compared to liquid-y condensed milk. Mixed it together on a cup and measuring cup due to not using a pitcher (photo shown above). Added ice and it was done. The silly part was drinking from the measuring cup.
The verdict: It tasted sweet and nice. There was hint that you're not really drinking tea. On their website, it mentioned "light honey" and I did felt a bit of a slight honey taste. Another thing that I was reminded of drinking Vitasoy.
Overall, a nice drink but had a complicated time in making due to not using a pitcher. I'll definitely make another drink again.
The Radio Show
This week's radio show, there was not much happening except that Elliott Brood was played as they're performing at Westfest. There were remixes from The Belle Game, Phoenix & Daft Punk, which were played on the show. New tracks from She & Him, Camera Obscura and We Are The City.
As June signals the end of the season, I will be playing some Beyond songs as June 30th will the 20th anniversary of lead singer/guitarist and founding member, Wong Ka Kui, who tragically died.
The playlist from the live show is over at this link.
This week top 10, Said The Whale is number one for the second week. The countdown summary is over at this link.
Have a great week!
---
Audio/Radio
The June 5th Radio Show – Press play to listen.
[audio http://archive.org/download/WildworksOnCkcu-fmForJune52013/WildworksJune52013.ogg]
Playlist from the Podcast
–Before The Wild 10 Countdown–
In Enemies – Still Life Still
–After The Wild 10 Countdown–
Unbelievers – Vampire Weekend
Gun – CHVRCHES
Homie (featuring Cadence Weapon) – Shad
Dance Cry Dance – Fevers
No Connection – Chris Ho
Today We're Believers – Royal Canoe
Diamond – Lightning Dust
Daisy – Blue Hawaii
In Kind – Braids