The Birthday Edition: Interviews with Young Rival and The Elwins – S08E27.5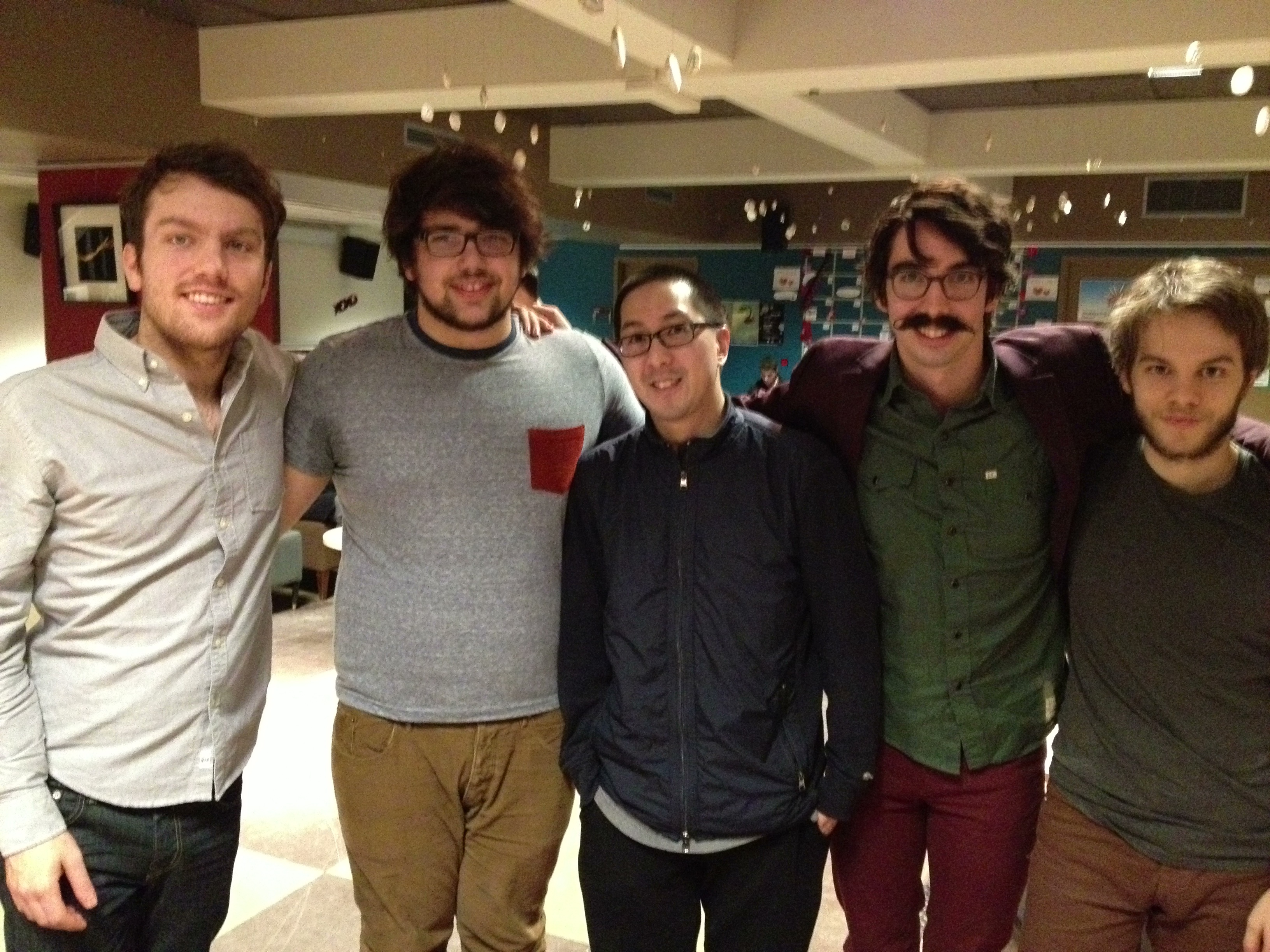 Hey friends, this is Candice writing a quick recap of today's edition of WildWorks.
So busy, busy show today – not only did we have a double dose of interviews with bands Young Rival and The Elwins, but today was also Lenny's birthday! Happy birthday, friend! Here's to another amazing year ahead and all the DAVIDsTEA your heart desires. : )
The photo shown is Lenny with The Elwins, after the interview.
On today's show, we played a few tracks from artists and bands that are competing in CBC Music's Searchlight contest. CBC is looking for Canada's next big thing, and the winning artist/band will get a sweet $20,000 in music-related equipment from Yamaha. The list of the top 20 acts is slated to be released Feb. 25.
And since our city has no shortage of talent, we played some tracks from a few Ottawa-area contenders like Three Little Birds, Sound of Lions, Laurent Bourque and Roberta Bondar.
Also on the podcast was featuring Scary Bear Soundtrack, as the lead singer is now living in Nunavut and taking part in Searchlight for that area.
For live music this coming week. Emm Gryner, who we played on the show, will be playing at the NAC Fourth Stage.
We also aired our interviews with Toronto band The Elwins and Hamilton's Young Rival today. Lenny chatted with The Elwins at the University of Ottawa on February 14, and we caught up with Young Rival at The Black Sheep Inn in Wakefield, Que. on February 15.
As always, we blitzed through the Wild 10 Countdown before the show. At number one, we had Born Ruffians with their track, "Needle." Their album, Birthmarks, will be out April 16.
You can find the countdown here. (Note: Songs played in the first part of the show are listed in the countdown blog) 
And if you're looking for the full playlist for today's show, you can find that here. (Another note: CKCU's playlist has their on-demand audio for the second part of the show)
Audio/Radio Show & Interviews
The February 20th Radio Show – Press play to listen.
[audio http://archive.org/download/WildworksOnCkcu-fmForFebruary202013/WildworksFebruary202013.ogg] The Young Rival Interview (2013 edition)
[soundcloud url="http://api.soundcloud.com/tracks/80116428″ params="" width=" 100%" height="166″ iframe="true" /] The Elwins Interview
[soundcloud url="http://api.soundcloud.com/tracks/80116715″ params="" width=" 100%" height="166″ iframe="true" /]