The NXNE 2013 Wrap-Up with Chris Ho & Crissi Cochrane – S08E45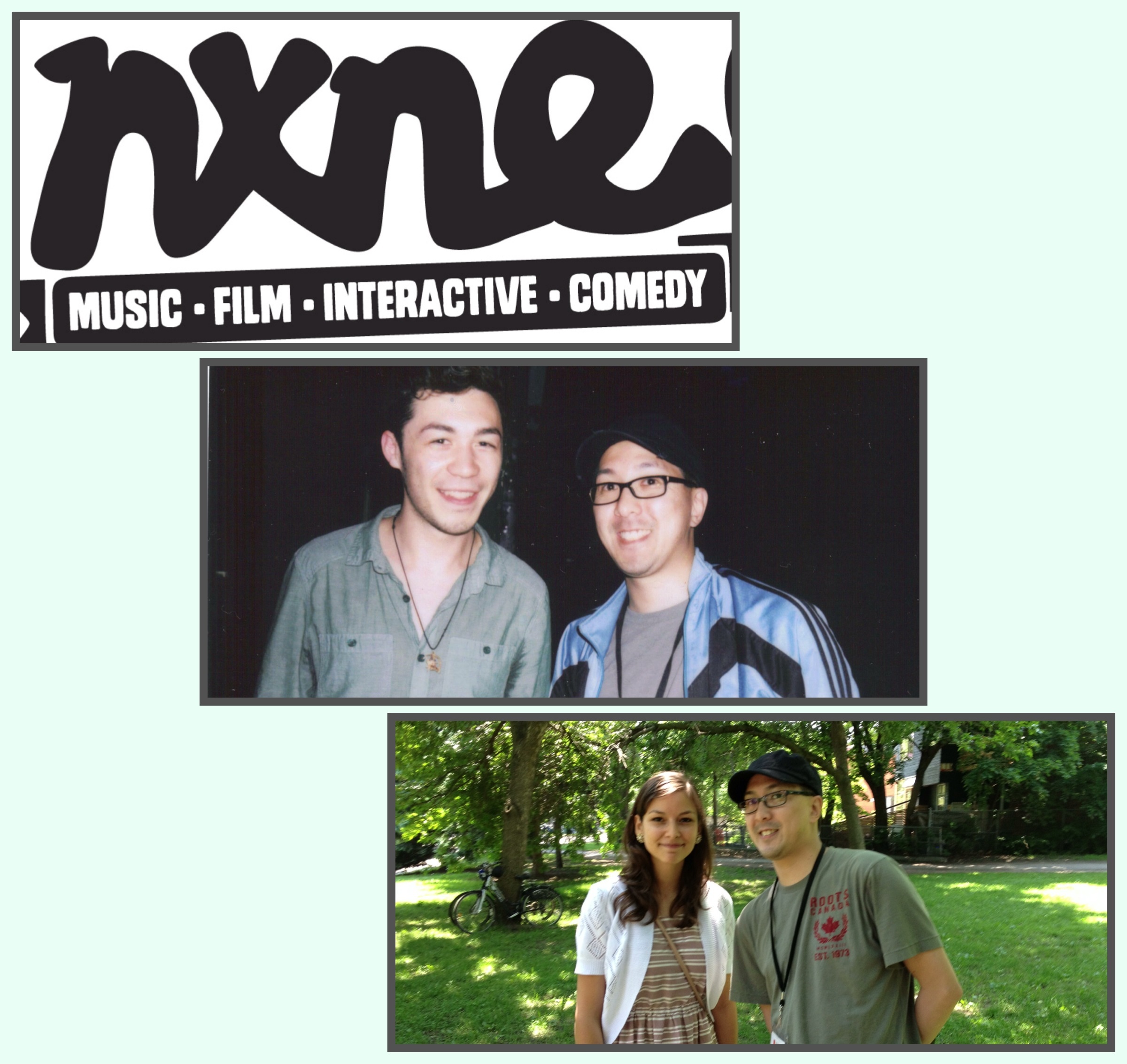 It was the second year to go to the big smoke, Toronto for NXNE. I definitely had a great time there and unfortunately, I ended up blowing out my left knee as I had to limp around from place to place. Blame it on carrying a shoulder bag full of cameras and an audio recorder. It was painful but was able to manage through the weekend. Here's my description of events. Apologies if this is a very long blog entry for this week.
Friday (June 14, 2013)
The first band to check out was at Urban Outfitters on Queen St. W and it was the Vancouver Electronic band, Bear Mountain. I found out on Twitter from a fellow CBC R3 fan and a photographer that she and a couple of people were going to Urban Outfitters to see the band live. They were definitely good to check out for anyone that likes Electronic music.
Later on, I went to the CBC Broadcasting Centre to kill time and unexpectedly bumped into one of the members of The Matinee. By then, it was time for the CBC Music Presents The Beetle Roadtrip Sessions finale party at the Glenn Gould Studio. It was great to see the CBC Radio 3 fans/bloggers and some for the first time in person as I interacted on the R3 website, Facebook and Twitter. I finally got to meet Lana Gay as she's one of the hosts I've interacted online but never got to meet in person as she was previously in Vancouver and has recently moved to Toronto. The Darcys performed for the finale party as well and played some of their hits. Bands from The Matinee, Shred Kelly and Hollerado showed up at the party. There was a funny moment when CBC Radio 3 host, Grant Lawrence did a crowd surf entrance from outside the CBC and inside Glen Gould Studio.
After the party, I tagged along with several people to go see k-os but found out we went to wrong location. Some of the guys were goofing off at Harbourfront and that's when my knee starting buckling up. Some of us splited up and went with two people (Eric and Brenda) to check out The National. Unfortunately, it was very packed getting to Yonge-Dundas Square. Then I tagged along with Brenda to go see… Sloan! For the life of me, I felt like a newbie to see Sloan as I never got to see them live. They played at The Great Hall and crowds were packed to see them.
Afterwards, I went down to Blk Box to see Still Life Still and Gold & Youth. I didn't stay for all of Gold & Youth as my knee was getting pretty sore.
Photos
Shows from Friday can seen over at this link via Flickr.
The CBC Music Present The Beetle Roadtrip Sessions finale party photos can be seen over at this link.
Photos on my Facebook Page can be seen at this link.
---

Saturday (June 15, 2013)
The following day was pretty fun and interesting as I finally attended the CBC Radio 3 Fan Picnic. I didn't attend last year as I got tied up interviewing Nat & Marie and didn't know my way to get Trinity Bellwoods Park. It was great to see more of the R3 fans/bloggers as well as the musicians and bands which consisted of Crissi Cochrane, Inlet Sound, Adrian Glynn and Shred Kelly.
One surprise as Grant Lawrence announced to the crowd was a R3 wedding for Russ Gordon of n2ds2w.com and Cathy Hagan. It was a touching and sentimental moment from the crowd.
Apologies to Russ & Cathy as I was goofing off and didn't pay attention as I was dealing with knee pain. Congrats goes out to the R3 newlyweds. There was the hijinx from an R3 fan, Davoud as he brought some alcohol to the picnic.
To my own surprise, I didn't expect to bump into Feurd of The Elwins and Mike of The Love Machine. Also, good friends, Hilary Duff and Regina Sy.
After the picnic, I took a break and relaxed until I went over to The Mod Club to check out Jessica Speziale. David Yazbeck of CKCU's Thursday Special Blend has had Speziale on his show and I was curious on how she sounded like. Worse part was getting to the venue as the TTC was running so slow and I was limping slowly to the venue. I got there in time and was able to take some photos and catch two of her songs. I didn't realize the show at The Mod Club was for a benefit for Amnesty International and Nellie's Women's Shelter. It was the NXNE Showcase for One Fire Movement Presents "Songs From The Heart." I then had to bolt to another venue to check out Chris Ho as he was playing at Tranzac Club. To my own surprise, A few CBC Radio 3 fans went to see Chris Ho as well. His performance was laid back as he played his songs from City of Dust and a cover track of I Got You Babe by Bahamas. The venue was small and quaint, which wasn't too bad.
Lastly, I went to Supermarket to check out Data Romance as I haven't had a chance to see them live in Ottawa. It was a nice surprise to show up and give them support. They were pretty happy to see me there. I definitely enjoyed their performance.
That capped off my time in Toronto for NXNE. Overall, it was full of excitement to check out up and coming music and to interact with people. It was great to see people like Philip, Adaline, Ride The Tempo and whole bunch of others.
Photos
Shows from Saturday can seen at this link.
The CBC Radio 3 Fan Picnic photos can be seen over at this link.
---

Radio Show for June 19th
This week's radio show was a wrap up to NXNE and I aired two interviews from Chris Ho and Crissi Cochrane. For Cochrane, she hasn't been to Ottawa and I had to interview as I've been playing her music and supporting. It was good timing to meet her in Toronto as she performed for the CBC Radio 3 fan picnic.
For Chris Ho, he's been getting a lot of attention since January of 2013. He also won an award at the Vancouver Island Music Awards. Ho has been getting plays on CBC Radio 3 and The Strombo Show.
The audio for the interviews will be posted below.
The Wild 10 Countdown for this week has Imaginary Cities on the top spot as we begin Summer on Friday. You can check out the summary at this link.
The playlist from the live radio show is over at this link.
Audio/Radio Show/Interviews
The June 19th Radio Show – Press play to listen.
[audio http://archive.org/download/WildworksOnCkcu-fmForJune192013/WildworksJune192013.ogg] The Chris Ho Interview
[soundcloud url="http://api.soundcloud.com/tracks/97587671″ params="" width=" 100%" height="166″ iframe="true" /] The Crissi Cochrane Interview
[soundcloud url="http://api.soundcloud.com/tracks/97588098″ params="" width=" 100%" height="166″ iframe="true" /]
Playlist from the Podcast
–Before The Wild 10 Countdown–
Walk You Down – Basia Bulat
–After The Wild 10 Countdown: Playing some of the Polaris Music Prize Long List Nominees–
Spirit In The Sky – Evening Hymns
Middle Child – Daniel Romano
Fifty Fifty – The Luyas
Enemies – Hannah Georgas
Art and a Wife – Rah Rah
Fineshrine – Purity Ring
1 bit Blues (10,000 miles) – Kid Koala
The Day You Die- Lindi Ortega
Cold July – Whitehorse
Closer (Young Galaxy Remix) – Tegan and Sara
Young & Lazy – The Matinee (Playing at the Ottawa Dragon Boat Festival on Saturday)