The Interview with The Doctor Who Society of Canada – S08E40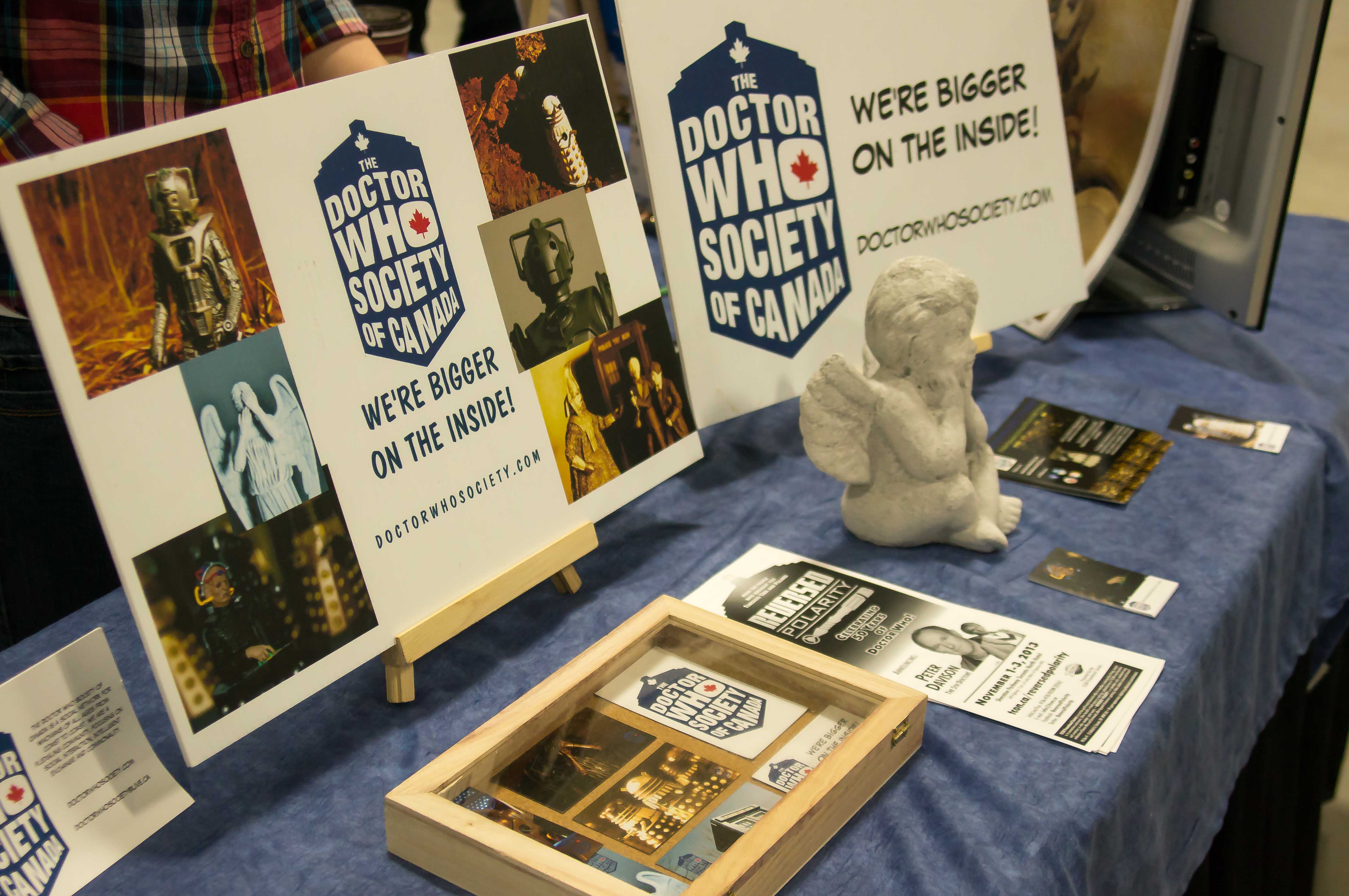 This is an epilogue to writing about Ottawa Comiccon. Unfortunately, things didn't go as planned on my radio show at CKCU-FM. The interview with the Doctor Who Society of Canada hit a snag as I did not get the audio file when the radio show was happening. As I make up for the error, The audio interview is posted for the blog version of the radio show as well as a separate link. Apologies on the technical difficulties that happened on Wednesday.
I had the opportunity to interview one of the members of the Doctor Who Society of Canada at Ottawa Comiccon. Aside from being a comic book fan, I'm also a diehard Doctor Who fan and it was with great privilege to chat with the not-for-profit organization. Luckily, I was able to do the interview as Saturday before the crowds got hectic throughout the day.
Even though, I didn't buy anything at the convention, I was able to buy a one year membership for the society and hopeful that an Ottawa chapter of the DWSC will happen.
As I don't want to spoil much about the interview, you can listen to the interview from below.
On the radio show, there were new songs from Bravestation, Austra and A Tribe Called Red. For the non-English music part, I played Moonlight Densetsu by Moon Lips (the theme to Sailor Moon S & Super S) as a nod to Monica In Heels because she and her friends were dressed up as Sailor Moon and gang at Ottawa Comiccon. This ends the post about Ottawa Comiccon.
Lastly, an event to check out this Saturday is Chinatown Remixed. On the radio show, Silkken Laumann was played because they are performing at Chinatown Remixed. A nice way to promote the month long event.
The Wild 10 Countdown this week has Gold & Youth on the top spot. You can check the top 10 over at this link.
The playlist from the live show is over at this link.
The audio for the radio show is split into two parts due to the error.
Lastly, it's the Victoria Day weekend. Have a safe holiday!
Audio/Radio Show/Interview
The First Part – The Wild 10 Countdown. Press play to listen.
[audio http://archive.org/download/WildworksOnCkcu-fmForMay152013/WildworksMay152013PartA.ogg] The Second Part – The Live Show & Interview Segment. Press play to listen.
[audio http://archive.org/download/WildworksOnCkcu-fmForMay152013/WildworksMay152013PartB.ogg] [soundcloud url="http://api.soundcloud.com/tracks/92348000″ params="" width=" 100%" height="166″ iframe="true" /]
Playlist for the First Part of the Show
–Before The Wild 10 Countdown–
I Need Your Love (featuring Ellie Goulding) – Calvin Harris
–After The Wild 10 Countdown–
Sea of Love – The National
Mirrors (Radio Edit) – Justin Timberlake
Drakkar Noir – Phoenix
Baby – She & Him
Ya Hey – Vampire Weekend
Young & Lazy – The Matinee
Do It In The Dark – The Balconies
Born Again (Luke Lalonde Remix) – DIANA
Get Lucky (featuring Pharrell Williams & Niles Rodgers) – Daft Punk