Ending The 2012 Interview Segment with Diamond Rings and Holiday Tunes – S08E15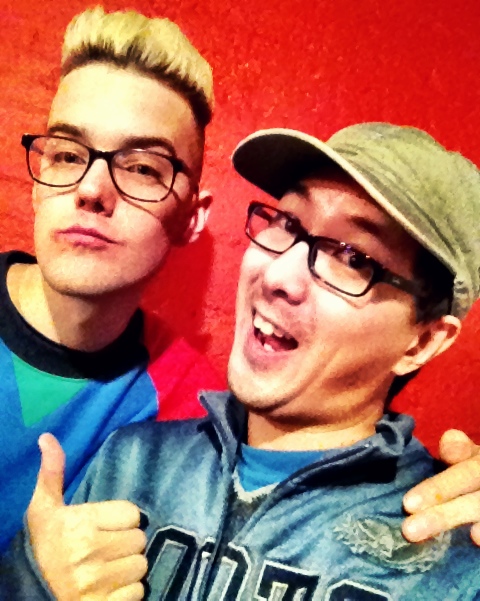 To cap off another year with great Canadian indie music. Ending the interview segment for 2012 happened to be Diamond Rings. It was quite the last minute as I encountered a problem from last week's radio show. It was the second time to interview John O. aka Diamond Rings as he's currently touring to promote his second album, Free Dimensional. I forgot how laid back and easy-going when I chatted with Diamond Rings. He was in Ottawa on Friday, December 7th and heard the show at Ritual Nightclub was sold out. Aside from the funny photo shown on top, I got a lot of "likes" when I posted the photo.
The audio of the interview will be posted below.
Holiday Music for December 12th
On the radio show and ironic that it was 12/12/12, Lauren and I played some Christmas tunes from Canadian musicians. There was one non-Canadian music in the set and that was 2000 Miles by The Pretenders. It was Lauren's last live show for 2012 as she will be back in Toronto during the Christmas holidays. On the live show, I played my favourite Christmas tunes which have become part of my yearly tradition playlist. This Christmas by Jill Barber and Wanting For Veruca by Said The Whale are songs that make you feel sentimental and bring the holiday spirit.
There was a guest on the show who's interested in contributing and volunteering at the station. The guest enjoyed what was played on my show.
Aside from that, the first part to the WildWorks Top 50 of 2012 is over at this link.
The playlist for the December 12 show is over at this link.
Hope you enjoy the Christmas tunes and the interview.
Audio/Radio Show/Interview
The December 12th Radio Show – Press play to listen.
[audio http://archive.org/download/WildworksOnCkcu-fmForDecember52012_80/WildworksDecember122012.ogg] The Diamond Rings Interview (2012 Edition)
[soundcloud url="http://api.soundcloud.com/tracks/71011852″ params="" width=" 100%" height="166″ iframe="true" /]