Met with Christie Chang, One of The Voices for TVB Pearl's Dolce Vita – S16E18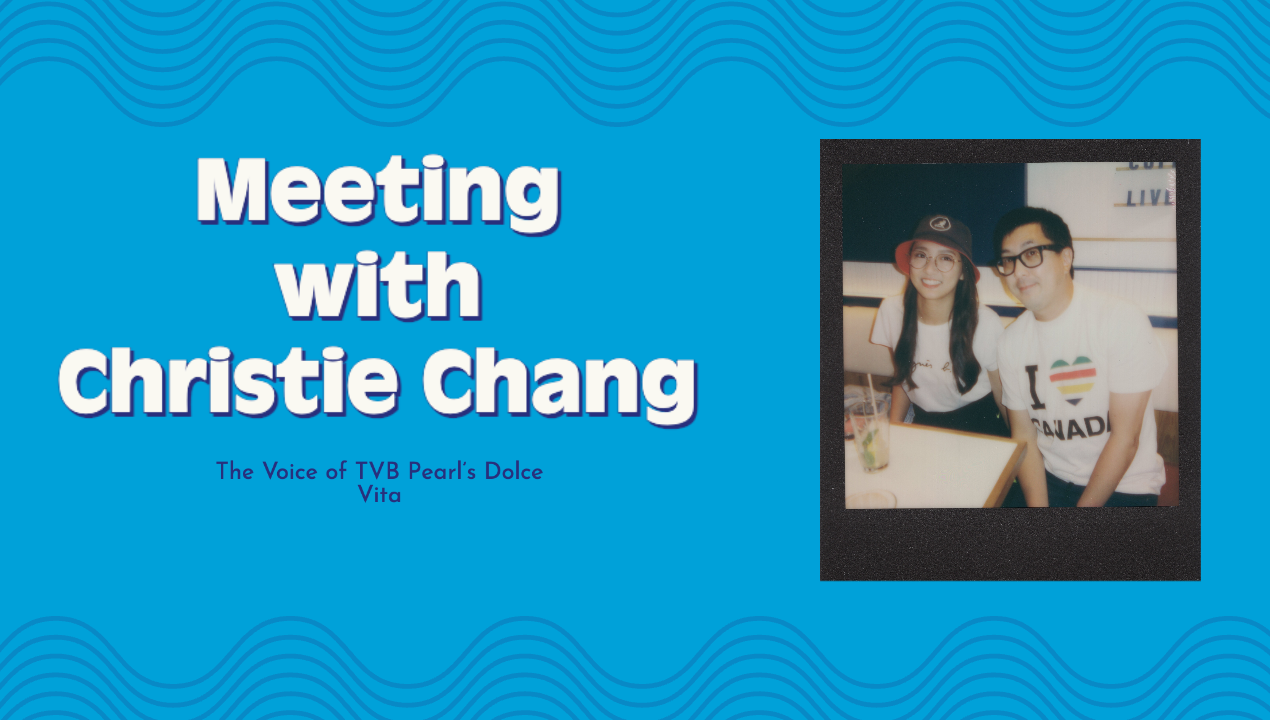 Originally was going to start with "Christie from the Block." A play on the Jennifer Lopez's song, "Jenny from the Block." Apparently, Christie Chang only went to New York for a brief time.
I got to meet with Chang as I was nearing my end of the Hong Kong trip. She is the one of the voiceover presenters for TVB Pearl's Dolce Vita. Dolce Vita is a lifestyle program on TVB's English television channel in Hong Kong.
Dolce Vita started in 2006 and in 2022, it made a revamp as TVB (Hong Kong's television broadcaster) created new original content called Pearl Originals. It started with Dolce Vita as it shifted more with arts, food, culture and technology within Hong Kong. The new Dolce Vita has been giving a refresh.
Back to Chang, it was a joy to meet up with her at a restaurant in a Hong Kong shopping mall. She's a rising talent at TVB. She was born in Hong Kong and then later lived in the United States. Apparently, it wasn't New York she lived first, it was in the west coast and then to New York City for studies at New York University, known at NYU.
Chang competed for one of the Chinese pageants in New York. Later on, she went to compete at Miss Hong Kong 2021, which was won by new Dolce Vita host, Sabrina Mendes.
Chang told me she does the voiceovers on Monday before it hits to air on Thursday. When the new version of DV started, it was Sheldon Lo who was the first voiceover presenter. Another voiceover presenter in between Lo and Chang throughout the season was Darren Wong, who also hosts DV.
She also told me she's doing a variety show on TVB Jade, the Cantonese channel. The show is called Celebrity Minute to Fame. It is currently airing in Hong Kong at this time of writing.
Being a new DV fan, I had been curious about the program for a long time. Apparently, Fairchild in Canada has been airing a Cantonese version of Dolce Vita prior to the Pearl Originals revamp. With the new DV, the only difference is the voiceover presenter is in Cantonese and done by someone else.
Since I don't usually follow well known celebrities on social media, I was curious to do Instagram Stories when watching Dolce Vita and tag the hosts. Finding the hosts on Instagram, I had to use Google to be sure it is actually them. To my own surprise, some of the hosts responded and it's been smooth sailing ever since. I'm trying to be creative and not burst into laughter has been fun to interacting with Chang and various Dolce Vita hosts.
With the photos, I gave her a Polaroid with black frames. Hoping she liked it.
Posted below are photos and links from YouTube, her debut voiceover on Dolce Vita.
It was great to meet up with Chang and chat up fun stuff while in Hong Kong. It's always a hoot to hear her narrate/voicing over on Dolce Vita every Thursday or on repeats and later on YouTube and social media.
Photos/Videos
With Christie Chang
Videos
Her voiceover debut on Dolce Vita, full episode. Note: Cannot be viewed in Hong Kong.

Clips from the same Dolce Vita episode – Viewed Everywhere


From Dolce Vita, Episode 28, She told me it was the longest voiceover to doing this episode.
Bonus Updates
From TVB USA's YouTube, a clip from Celebrity Minute to Fame.