Hot Summer at Ottawa Asian Fest Night Market – S15E18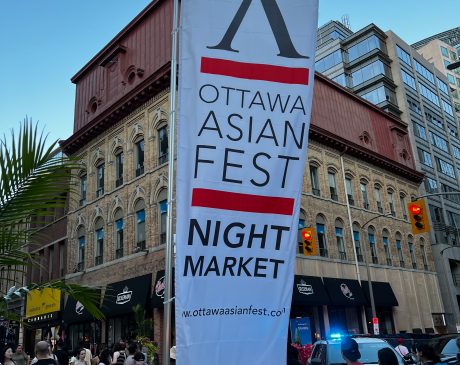 This past weekend, Ottawa Asian Fest hosted the return of their Night Market and it was held at Sparks Street in the heart of downtown Ottawa.
It's been two plus years with no events happening in the Nation's Capital due to the pandemic. Since the easing of lockdowns and restrictions, things have been going back to normal.
On Friday and Saturday, I went to Ottawa Asian Fest Night Market because my lion dance troupe was there to perform using the glowing lions. I had the opportunity to meet up with friends and new people for meetups prior to the glowing lion dance performance. It was a fun time being around with the people since the lockdown and no events for about 3 years.
At the Night Market on Sparks St, I tried the made at the night market mochi donuts by Dao Bake and Sip Cafè. The flavours I picked were Raspberry White Chocolate and Hong Kong Milk Tea. There were the lamb skewers and the spiciness temporarily got to me.
You will see from the photos below.
Two nights of being a sweaty mess was definitely worth it as I didn't get to see friends for awhile. It's great to see events in Ottawa back and running.
You can check out the photos and videos below. Enjoy the contents.
This wraps up season 15 of the blog. I know it's been a long season thanks to the pandemic. Season 16 will start something exciting and I can't tell you yet. That's all I will say. It's been a long season 15 and what a way to end on an exciting note.
I also hope you like the look the blog and I didn't publicly mention the change of the blog.
Happy Summer!
Photos
From Friday
From Saturday
Instagram
Videos
Glowing Lion Dance from Friday Night

Video from Saturday Night at Ottawa Asian Fest Night on Sparks St.