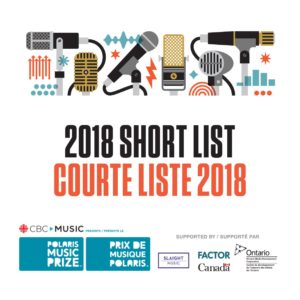 The 2018 Polaris Music Prize Short List was unveiled and here are the 10 albums as voted by Canadian journalists, bloggers and critics and broadcasters to find the best in Canadian music.
Alvvays – Antisocialites
Jean-Michel Blais – Dans ma main
Daniel Caesar – Freudian
Jeremy Dutcher – Wolastoqiyik Lintuwakonawa
Pierre Kwenders – MAKANDA at the End of Space, the Beginning of Time
Hubert Lenoir – Darlène
Partner – In Search of Lost Time
Snotty Nose Rez Kids – The Average Savage
U.S. Girls – In a Poem Unlimited
Weaves – Wide Open
There you have it, a good mix of Francophone, Rock, and R&B music to the 2018 edition of Polaris Music Prize.
Some repeat entries from Alvvays, U.S. Girls and Weaves to new entries from Daniel Caeser and Partner. All 10 short listed albums will be worth listening on music streamed services like Apple Music and Spotify.
The Gala is on September 17 and hope to be there in Toronto.