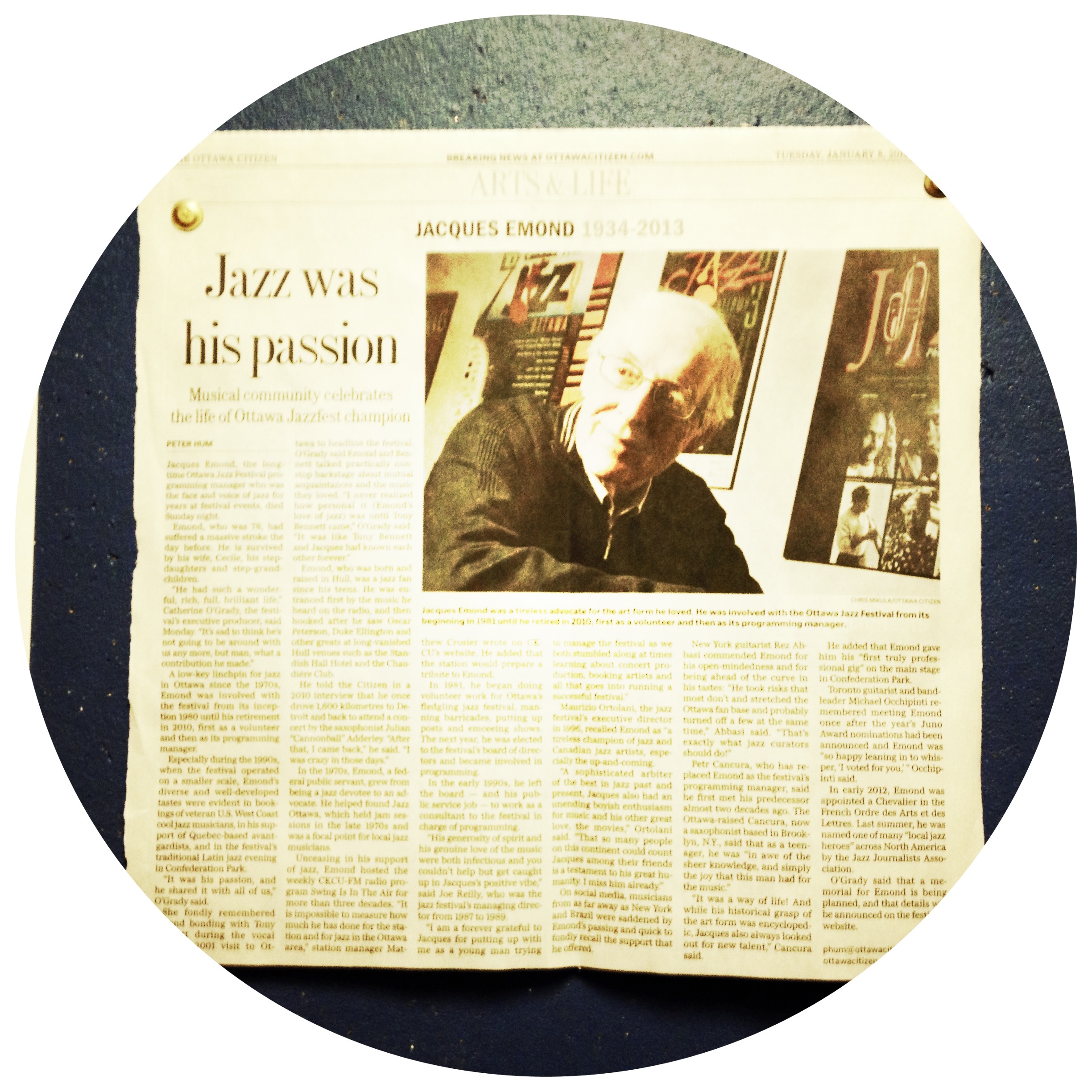 It's with great sadness to find out a host at CKCU-FM passed away on the weekend. Swing's In The Air, hosted by Jacques Emond, was a wonderful and kind host. Aside from being a host at CKCU, he was also associated with Ottawa Jazz Festival as Artistic Director. As tributes have been pouring in condolences on the station's website, it certainly shows how much an impact Emond had within the Ottawa Jazz scene and the loyal presences on the radio every Sunday afternoon.
On the radio show, I mentioned that I had the chance and privilege to have met him as it was when I started my radio show in 2009. I was a rookie at that time and not knowing about various hosts at the station. As what everyone said, he was definitely a kind man and had some witty and carefree attitude. One thing I forgot to mention was listening to his show while in the CKCU office, a host from another show came on to get listeners to pledge and they were speaking in French. It goes to show how generous Emond was. His generosity and keen atitude totally showed his true love of Jazz music.
The photo shown is a clipping from the Ottawa Citizen. I hope you will enjoy to listen to the radio show as classic Jazz tracks were played.
The playlist is over at this link.
Also on the show was the return of the Wild 10 Countdown. For past month, there were holiday and year-end music shows. This week's countdown had returnees as certain bands and musicians were played on various best of 2012 music shows.
The top 10 is over at this link.
If you get a chance, I have been doing a photo 365 challenge of sorts. It's over at this link.
That's all for the week. If I left out some other detailed parts, I was having a headache as I wrote this post. Apology on the lack of writing.
Audio/Radio Show
The January 9th Radio Show – Press play to listen
[audio http://archive.org/download/WildworksOnCkcu-fmForJanuary92013/WildworksJanuary92013.ogg]