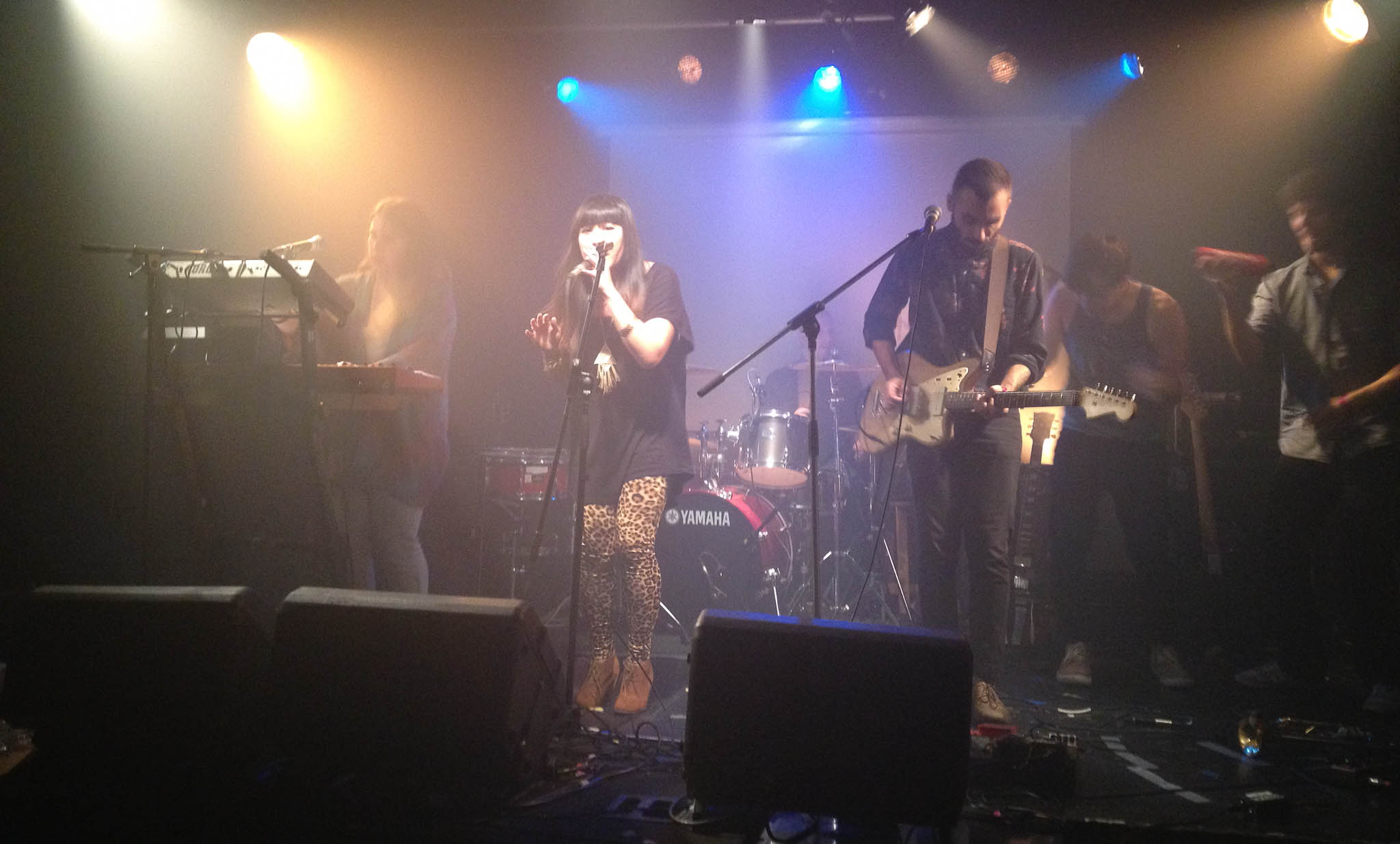 I had the opportunity to  go down to Montreal for the yearly Pop Montreal music festival. I went on fewer dates this year because there was a Polaris Music Prize Salon which took place at the Mercury Lounge on the Thursday night. Compared to last year, I was able to conduct an interview with a band but it's returning one. It's been awhile I have seen The Belle Game as they are now reside in Vancouver. Aside from not seeing them for a couple of years, they got a brand new album to be out soon. It will be called Ritual Tradition Habit. Their performance at O Patro Vys on Saturday night had a funny start. The band were fully covered in smoke and I could barely see them because of the heavy smoke from the smoke machine. There was a joke that it was the Vancouver fog followed them. Overall, it was great to see the band live as I previously saw a different incarnation of The Belle Game. The audio interview will be posted below for anyone interested.
Other acts at Pop Montreal were checking out Chairlift, The Elwins and other bands. One surprise that I encountered was a music writer residing in Montreal. Luckily, I had my MOO minicards with me for networking. To my amazement, the writer is from the States and pretty interested in the Montreal music scene. You can check the writer out at Vesper Magazine | Montreal section.
Another person I almost forgot to meet was Ohara Hale because I had her on Facebook and when I went to Pop Montreal last year, I totally forgot about finding her. Unfortunately, I didn't see her perform but I bumped into her at Puces Pop as she was displaying her posters.
I had a great time being in Montreal and I really wished my co-host, Lauren came along as it's tough going to shows on your own. All I can say that Montreal has such a vibrant music scene and Pop Montreal brings the excitement for music fans.
Moon Songs
On the radio show at CKCU-FM, I played moon songs as Mid-Autumn Festival is on September 30th. It's fitting to play a moon songs but I didn't bring along moon cakes to studio.
The Wild 10 Countdown, the new number one is The Fighter by Jenn Grant. She released a brand new album called The Beautiful Wild. The entry for the Wild 10 Countdown is over at this link.
Starting off the show was playing The Bad In Each Other by Feist as her album, Metals won the 2012 Polaris Music Prize. All of the 10 short listed album were great. It's not a surprise for Feist to win it as her album was beautifully made and very creative.
The playlist is for this week's show is over at this link.
Audio/Interview
The September 26, 2012 Radio Show – Press play to listen.

The Belle Game in Montreal Interview
[soundcloud url="http://api.soundcloud.com/tracks/61273110″ iframe="true" /]